- Toxaway Views Condo - Lake Toxaway NC -
in the "Land of Waterfalls"

35°06'29.1"N, 82°56'40.8"W @ 3,200 elevation
on the Highlands-Cashiers Plateau

Featuring

Panoramic views of Gorges State Park

and the

Mountain Range Beyond, including Lake Jocassee SC

Escape the Summer Heat! Heat!

- 3200' cool mountain elevation -

Stay for Colorful Fall Foliage/Leaves

Foliage Reports
Stretching from Highlands to Lake Toxaway (all over 3,000' elevation), the Highlands-Cashiers Plateau of Western North Carolina is an oasis of incredible beauty. Often referred to as the "Land of Waterfalls," the area boasts abundant rainfall and unique geology, which creates some of the most spectacular cascades in the South. Rich forests of hemlock and white pine, with a thick undergrowth of azalea, rhododendron and laurel, are almost everywhere. This beautiful area of rugged mountains is part of the Blue Ridge mountain range with 70% of the land preserved as National Forest.

Toxaway Views are located in Lake Toxaway and is surrounded by the Nantahala National Forest. Toxaway Views, primarily used as vacation homes by mostly out-of-state owners, are directly adjacent to Gorges State Park; and, Pisgah National Forest is eastward down the street. Located in Transylvania County NC, called the Land of Waterfalls (due to the incredible number of waterfalls in the vicinity) and featuring thousands of acres of trails; and, great trout fishing. Convenient to Brevard & Sapphire Valley-Cashiers-Highlands, and Asheville. (5 Mi. to golf course).

Toxaway Views has an on-site Heated Swimming Pool.

Location: Toxaway Views Condos, Lake Toxaway, Sapphire, Smoky Mountains, North Carolina, USA.

Close Proximity to: Lake Toxaway, Sapphire Valley, Cashiers, Highlands, Brevard, the Smokey Mountains Blue Ridge Parkway, in Western North Carolina Mountains, USA (1 hour from Asheville; 3 hours from Atlanta & Charlotte).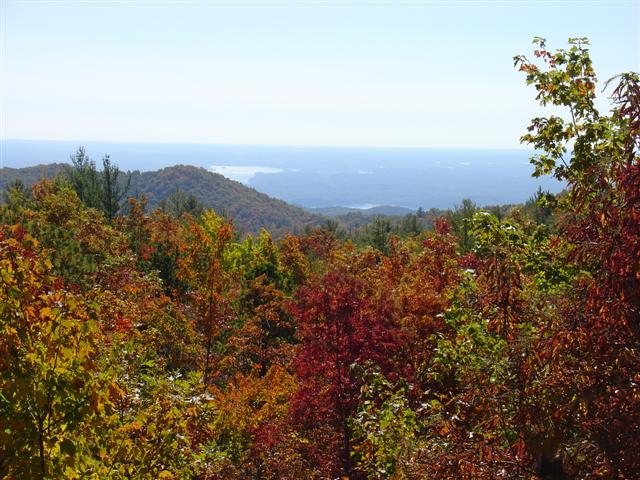 Long-view from our back deck - of Lake Jocassee SC in Autumn (photo 10/22/06)
Construction Features Includes:
• Ferrocement Siding (Cedar) Exteriors
• Entrance Foyer
• Native Stone Fireplace
• 2 Bedrooms
• 2 Full Baths
• Living Room
• Dining Room
• 10 X 10 Deck off Master Bedroom
• 10 X 30 Deck, some with a 10 X 10 Screened-in Porch
• Exterior Storage
• Electric Heat Pump with Air Conditioning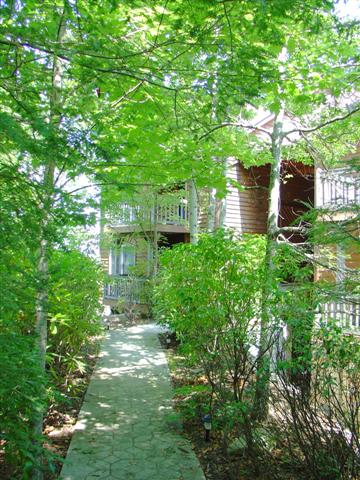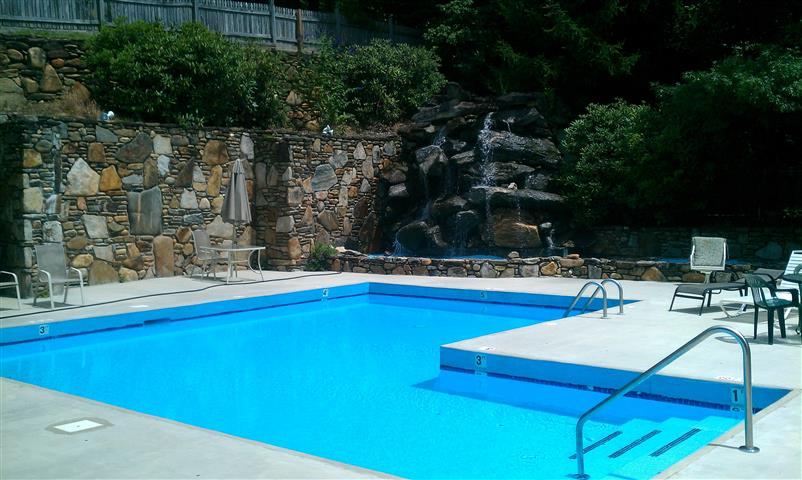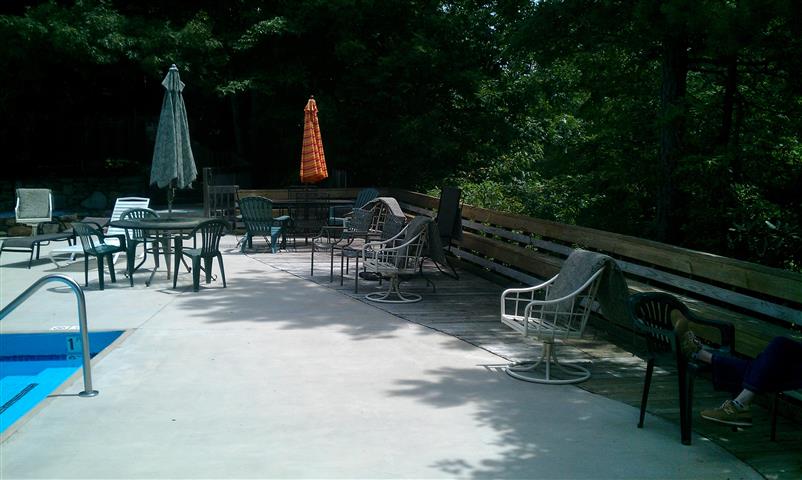 The Toxaway Views' heated swimming pool & deck area.
Very comfortable NC Mountain condominiums. Convenient to Highway 64, but with extraordinary privacy. This has all the comforts of home and is surrounded on 3 sides by the fabulous Gorges State Park; which contains plunging waterfalls, rugged river gorges, sheer rock walls and one of the greatest concentrations of rare and unique species in the eastern United States are found within Gorges State Park. An elevation that rises 2,000 feet in only four miles, combined with rainfall in excess of 90 inches per year, creates a temperate rain forest and supports a collection of waterfalls - all of which are available to Toxaway Views Condominium owners and guests and which begin a short hike and/or drive from our front doors! Condo features - Wood-burning Fireplace, Central heat and Air Conditioning, Full Kitchen, Dishwasher, Refrigerator, Washer and Dryer, Garbage Pick-up, and Heated Pool.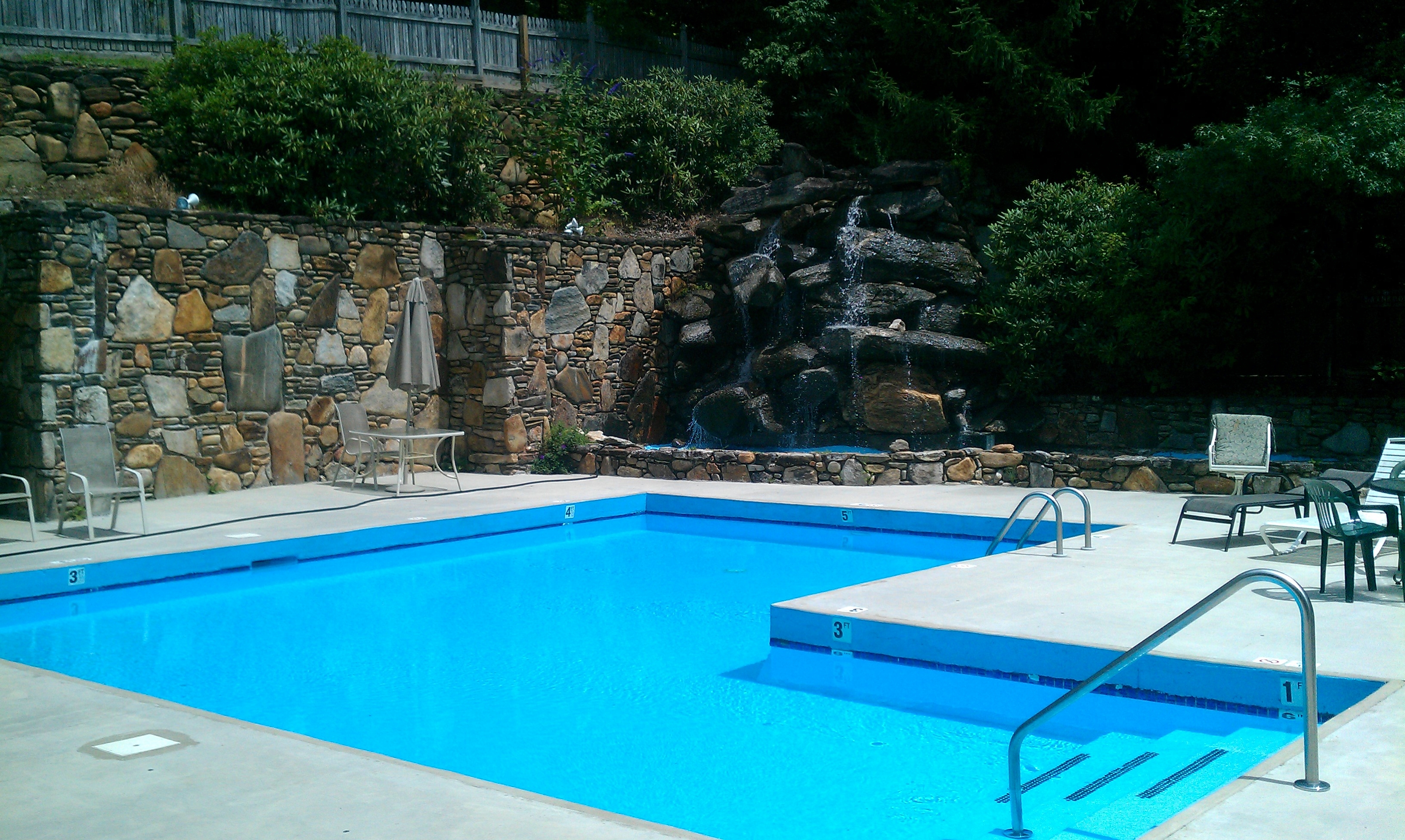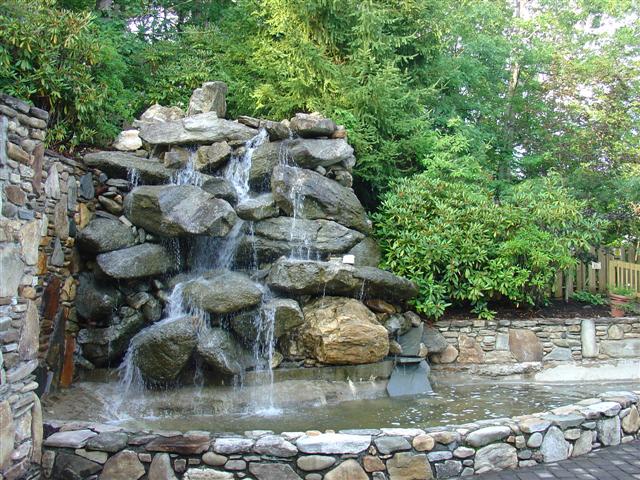 The Toxaway Views' pool, with its own waterfall featuring huge rocks and natural landscaping, as are the trails and paths thru the surrounding forests and meadowlands, are a terrific asset to the Toxaway Views Condominium owners and guests.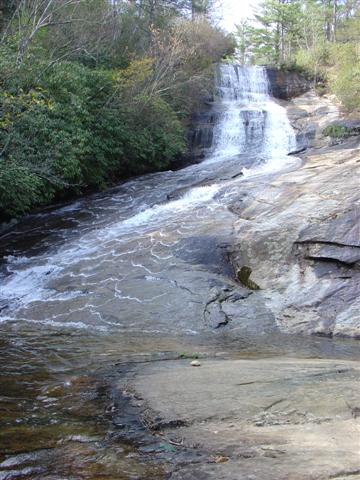 Mountain Recreation - Enjoy a family gathering on the spacious grounds or visit the Nantahala National Forest, Pisgah National Forest or Gorges State Park just a short distance away, where you can hike, visit the many waterfalls, Panthertown Valley is a must see (trail map) for anyone craving the ultimate outdoor experience. Hike Whiteside Mountain, with its spectacular 700' high cliff walls lofting the hiker for amazing views. Take that family picnic or check out the many other area activities. Ideally located halfway between Cashiers and Brevard, famous for the Brevard Music Festival and just over an hour to the Biltmore Estates in Asheville. And don't forget historic Hendersonville is just 45 minutes away featuring the Flat Rock Playhouse.

Activities on site or nearby: Hiking (many beautiful trails to waterfalls - Upper Bearwallow Falls shown on left), Rock Climbing, Biking, Golf, Fishing, Hunting, Wildlife Viewing, Horseback Riding, Shopping, Antiquing, Arts & crafts shows and galleries, Fantastic Restaurants, Live Theater, Cinemas, Sightseeing, Swimming, Rafting, Downhill Skiing.

If you are golf enthusiasts, there are many courses available in the immediate proximity. They are Sapphire Mountain, Glen Cannon, Sherwood Forest, High Hampton, and Etowah--just to name a few.
This community website is sponsored/hosted by the Toxaway Views Homeowners Association and maintained courtesy of Webmaster Don Woods for the benefit of the TVHA and all TV owners. The sponsors solicit website content, photos, suggesting, comments (good or bad - well maybe mostly good), regarding expansion, and other improvements for enhancing this website to be a beneficial resource for all.